Day 2: touring London in style?

26 April 2023
The day I arrived in London, I was jet lagged, and a bit preoccupied. By the time I managed to check in at my Hotel, it was after 3 PM. I needed to stay awake until at least 8 PM. So after making my foray to the perfumerers, I returned to the Shepard's Bush area and had dinner at a local pub. The real sight seeing began on Day 2.
If someone is in London for the first time, I recommend, do not try to see everything all at once. I tried my first few visits I went into sensory overload. Instead, be realistic when planning things out. London has over 100 museums to visit. For instance, do not try to see everything in the British Museum, or the City of London Museum in one day! You will rush and miss things. That is why I spend a few days in London before returning home, to visit places I missed on arriving.
The first museums I mentioned are the British Museum and London Museum. If you want to see antiquities from across the world, that is the British Museum. If you want to see world antiquities brought to England or created in England, go to the London Museum. The City of London is effectively its own self-governing municipality. Dating to 1066, it has its own police force and museum among other things. Like the British Museum, the City museum is free. And it is usually easier to get into the City museum.
Because the British Museum is so famous, people may have to stand in line for over an hour to get inside. One trick to getting in is to register online and pay for a special entry ticket. In that case, you enter the museum through a much shorter line than the general public. Sadly, this trip I did not go to either museum. The London Museum is moving to a new location and only an annex location was open. I looked at the lines for the British Museum and walked away.
I was traveling with someone who had never been to London before. We took the quick, one-day touristy option. We rode a double decker tourist bus! I do not know how many companies now operate these hop-on hop-off tours. Basically, there are double decker busses, with an open top level. They drive a regular circuit around the city, stopping by various attractions, such as Hyde Park, Trafalgar Square, St. Paul's Cathedral, etc. You get out at any regular stop, look around, and get back on the next bus coming by. The bus drivers pass out audio ear buds, which the passengers plug in at their seats. The bus may have as many as a dozen different language to listen to, as the bus drives by attractions.
The tickets are usually good for 24 hours. In addition to the bus tour, some companies offer other options, such as a trip along the River Thames on a water taxi; a ghost walk; Jack the Ripper walk; ride the London Eye; or discounted entry into some major attractions. In this case, we took the water taxi, and Jack the Ripper walk, as well as the ride through the city. There are several different companies, among them are, Golden Bus Tours, London City Bus Tours, but we took the Big Bus London Tours. None of them are cheap, but if you are limited on time, they are convenient.
On the Big Bus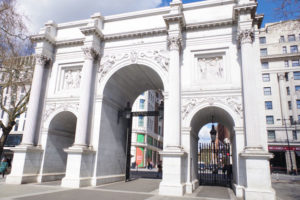 Marble Arch Near Buckingham Palace
Near Marble Arch is the site of the
Tyburn, or public gallows!